Expert SEO Agency - Gig Overview (Fiverr)
This is our comprehensive SEO gig, designed to improve your website rankings by following a proven approach over a few months.
Note: this is only available on Fiverr, do not try to contact us directly.
You may purchase the gig
here
.
Before we get into the details, here are some of the results we have achieved with this gig.
Results
First, we started in late September 2017. This is a local site, showing 485/month organic traffic in Ahrefs. They are now up to 2127/month and climbing, for a 340% increase in organic traffic in 10 months.
Our next example is great results in one month - we started working with this client on May 2nd and ended June 2nd, but the results are still coming in. From 162/mo to 579/mo, a 260% increase in one month!
How does it work?
Setup
When you purchase the gig, you will get a link to an intake form that will ask you the questions we need to do the work for you.
Note if your project involves a local business, there is an extra set of questions that we need to be completed so we can build citations for you. Those questions are also in the intake form.
Once we have the completed form, it will go to our operations team. They will build out the project in our project management software and set up the milestones and tasks for our SEO and Web teams.
Week 1
In the first week we will focus on finding the right keywords for your site and running a technical audit to see if there are any critical issues that need to be addressed. We're also going to make sure your basic SEO essentials are in place.
The keywords are chosen in part based on your site's ability to rank for them. So if you have a new site, we're not going to try to target a 15,000 volume, competitive keyword. We'll look for something lower volume that you have a chance to go after in a 6 month timeframe. We check out what your competitors are ranking for and provide those as well.
The technical crawl is very detailed and will point out any potential issues that need to be remedied on your site. Note that fixing ALL of the issues is not within the scope of the gig. We will address very critical ones, or important ones on the pages we work on, but this is not meant to be a deep-dive technical SEO fix gig. For almost all of our customers, getting down to that level of remedy is not necessary and will not improve rankings to the extent that other things we can do will. We will fix the top 5 scope-appropriate issues we identify on Standard and Premium ESA - this is not included in Basic.
The SEO essentials check covers the following items:
Set Up Google My Business
Set Up Google Search Console
Verify correct indexing in GSC
Set Up Bing Webmaster Tools
Verify correct indexing in BWT
Verify Robots.txt
Verify Sitemap.xml
These are basic but very important items to have done properly and issues here can be a warning sign of things that are holding back rankings.
There are two deliverables this week:
Keyword research spreadsheet (roughly 5 keywords per page included in gig)
SEO Audit
Note: In month 2+ of the gig these deliverables are replaced with a 1000 word piece of content and a DA 10+ guest post backlink.
Week 2
In the second week we will get to work on your on-page SEO, for the number of pages included in the gig. This is the core of the gig and one of the most critical parts. We're also going to be writing some content for you.
We'll take the keyword research from week 1 and analyze how to build them into your pages. We test what works to improve rankings and follow the work of other SEOs that do as well. These current best practices are applied to your pages in the most critical places to help improve rankings.
Title tags, meta descriptions, h tags, and urls are all analyzed and changes are proposed based on what we find.
Once we have completed our recommendations, we will submit them to the client for approval.
Here is what is included depending on which level of the gig you purchase: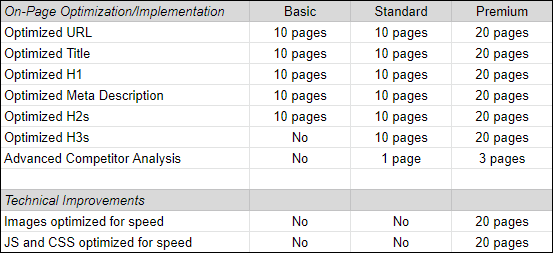 There are two deliverables this week:
On Page Recommendations
1000 word article*
* 1000 word article is only included in the Standard and Premium packages.
Week 3
After we receive client approval our Web team gets involved to implement the changes. We will make all of the changes that we can. Sometimes there are theme or core-file modifications that need to be made - if that is the case, we will request further approval to do so. Otherwise, the work will proceed and the changes noted on the on-page recommendation form.
If there are critical issues identified in the SEO Audit, those may be taken care of during this week as well.
If your gig level includes technical improvements, those will also be handled this week.
There is one deliverable this week:
On Page Recommendations - Implemented

The above includes the content that was written in week 2
Week 4
For this week the focus is building links. Depending on the type of site it is and what gig level you purchase, we will work on the following:
Citations - important for improving rankings on the maps, these are links to your site that have your Name, Address, and Phone (NAP)
High site-authority profile-type links - typically used as "pillow links" to diversify backlink profiles
Guest post articles - important for improving overall site authority, as well as helping the rankings of the page linked to
There is one deliverable this week:
Week 5+
When you repurchase the gig, we will take what we have learned from month 1 and do more work to drive rankings and traffic.
We may write a new piece of content for your blog, targeted at specific keywords we want to drive traffic for. We may recommend changes to improve an existing piece of content.
If you have more pages that need to be optimized, we will do those.
Most importantly, we will build links. Now that the on-page elements are in place for the most important pages, we working on getting links to them to amplify the effect and boost the rankings.
Interested in improving your rankings and traffic with SEO that works? You may purchase the gig
here
.
Frequently Asked Questions
Why can't we talk to you directly?
It's a violation of Fiverr's terms of service - if you found us on Fiverr, you need to talk to us there and work with us there. Also per their terms, all pre-sales discussion needs to be in their chat. So if you call us or message us, we will not get back to you. We are available in Fiverr chat most of the hours of the day - talk to us there!
Why can't we work with you direct ly?
We do not offer this gig directly from our agency. It is a limited-scope version of the service we provide to our direct clients. We are not accepting new direct SEO clients under $1500/month with a minimum 6-month commitment.
I have an SEO problem, can you fix it?
No, if it's not covered by one of the gigs we offer we cannot help, sorry!