Case Studies: Google Ads / Adwords
Case Study 01
A bike shop owner came to us with an idea to promote discounts on tuneup for first-time customers. We set the proper geo-targeting and picked hyper-specific keywords so that not a dime would be wasted on irrelevant searches. The resulting campaign provided a whopping 38 conversions in the first week at $2.55 per downloaded coupon. The client was thrilled with the results and turned this campaign on and off whenever he needed a little boost in customer traffic.
Case Study 02
The client came to us with a severely unorganized Adwords account and had not been properly optimized since it's initial setup. We put our top expert on the account and saw swift progress. By cutting away bad keywords, adjusting the bid strategy, and monitoring the search terms, we were able to take this account a monthly average of 14 conversions at $152/conversion to 192 conversions at $32/ conversion! The client could not believe the results and brought in a massive portion of new business.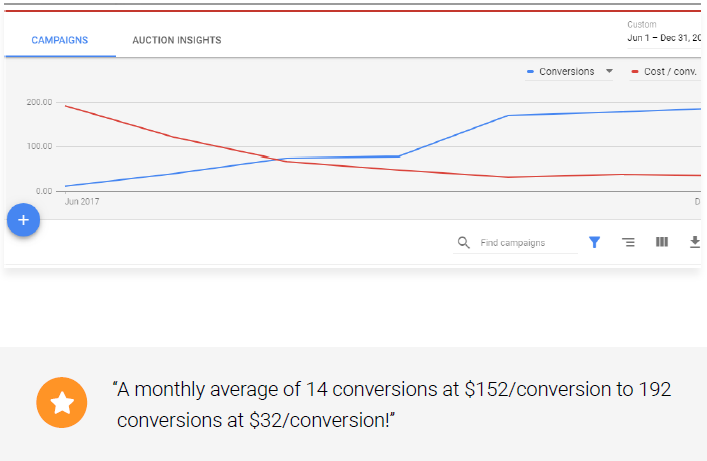 Case Study 03
This client was an attorney who came to us wanting to target locally for a very small, specific niche. He was skeptical of Adwords but knew that there was a hole in the market that he could take advantage of, so he asked us to do a trial run. We worked with him to develop targeted, niche keywords that would only generate highly relevant, high-value clicks. After 2 weeks of optimizations, the campaign starting generating a steady flow of leads, many of which were closed at a large profit. We also achieved an extremely low $4.22 CPC which is difficult to do in the competitive attorney PPC landscape.